Nursing professionals from healthcare facilities nationwide experienced informational sessions, networking, and innovative solutions like remote patient monitoring technology at two important nursing conferences.
Attendees of ANCC Magnet Conference and Nursing Management Congress saw firsthand how NOVA (Nursing Observation and Virtual Assistant) could benefit their teams. NOVA is end-to-end the world's most powerful remote patient monitoring technology — but what does this mean for attendees at these conferences?
What is Remote Patient Monitoring?
Remote patient monitoring is an incredibly powerful technology that provides real-time insights into the condition of patients. This technology improves patient safety by monitoring patients in their rooms and throughout the healthcare facility.
NOVA has many applications, whether patients are elderly and at a higher risk of falling, recovering from surgery, in rehabilitation, or needing help with behavioral health issues. Wachter Healthcare Solutions has created various remote patient monitoring devices to best serve these varying needs across healthcare facilities.
Our Takeaways from ANCC Magnet and Nursing Management Congress Nursing Conferences
Among those from Wachter's team who attended both conferences included NOVA Business Development Manager Ashley Kuruvilla , MSN, APRN, FNP-C and National Account Manager Devin Johnson .
"We've done our research about VPO technology extensively, and all the questions that attendees asked us about NOVA, we were able to answer and have a solution for," Kuruvilla said.
"To all their questions about NOVA, we either have a solution currently in the works, or we have a solution ready for them now, or it's in the workflow for the next rollout. We reiterated to attendees that we work with their teams and with the hospitals — that we get their feedback and that we are improving our product all the time."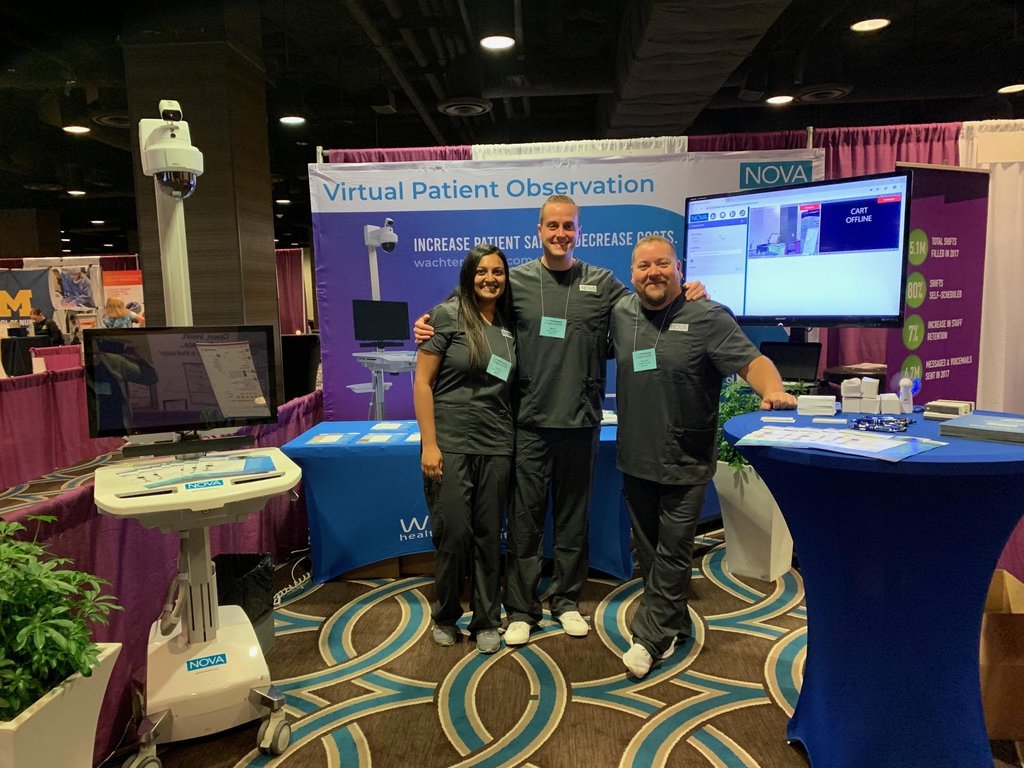 One important takeaway that Johnson notes is the level of support and expertise the Wachter Healthcare Solutions team provided at both conferences is the same support and expertise healthcare facilities receive 24×7.
While both conferences are designed for nursing professionals, the objectives of attendees varied between events. The ANCC Magnet Conference was geared toward nursing professionals working at hospitals seeking, or that have already earned, Magnet certification. Attendees of the Nursing Management Congress were primarily leaders in the nursing field, including Nursing Managers, Directors of Quality, and CNOs.
"I think with our team going into these conferences that have such high standards, we wanted to show our innovative side to show them this product we have so they can work toward requirements to achieve Magnet status, or help them to improve their quality results," Kuruvilla said.
Prior to coming to Wachter, Kuruvilla earned experience in healthcare as a nurse practitioner, nurse consultant, quality improvement coordinator, registered nurse, and in telemedicine. This has allowed her to serve in different roles and see different aspects of healthcare organizations.
What Nursing Leaders Learned about NOVA, Wachter's Team
Nursing leaders at both conferences asked how NOVA can aid in reducing costs of 1:1 hospital sitter programs and improve workflow efficiencies. When asked this, Kuruvilla tapped into her experience as an RN.
"NOVA is not only intended to help with patient safety, but also to help the staff. I've been there where I know about nurse burnout and having to run an entire floor with just one other tech and you've got 15 patients each," Kuruvilla said. "If I can get behind a product that I know will actually help the industry, then I am all for it."
When asked who Wachter is, Johnson explained that our experience as a company and our dedication to great customer service is what can truly help healthcare organizations using NOVA.
"What we can hang our hat on is that we've been around for 90 years, and we've worked with many Fortune 500 companies. Though we might be new in healthcare technology, we aren't the new kids on the block. When it comes to what we've done for hospitals, behind the scenes such as electrical systems and technologies, that's been our work," Johnson said. "We're not just some hotshot startup."
Learn why NOVA is the world's most powerful suite of patient monitoring technology backed by a reliable, experienced team that wants your organization to succeed.